Virtual Cook-Alongs Are the Newest Cooking Style!
Find this article at:
go.ncsu.edu/readext?763533
The Cooperative Extension Service has been providing educational opportunities and "extending" the teaching and research from the universities for over 100 years. One of our traditional ways of meeting with people is hosting classes, but with social distancing and concerns about group meetings, we're learning to reach out with technology! This requires all of us to learn alternative ways to do things. The N.C. Cooperative Extension of Brunswick County office has expanded our website, Facebook posts, and we have also set up a YouTube channel.
Food, nutrition, and wellness are the fundamental subject matter for our Family and Consumer Science staff. Cooking, smelling, watching and tasting has always been an important part of these programs. It's hard to pass out samples over the computer, so we're trying the next best thing…a virtual cook along.
Last week our Extension Master Food Volunteers assisted us as we did a virtual cook-along class from the demonstration kitchen at our office in Bolivia. This was a practice session for our upcoming six-part live (over Zoom) Med Instead of Meds program. It was a fun day, and we all learned a lot, too. When you watch one of these programs, you don't realize the many people involved behind the scenes. We had lots of help to make this possible: Meghan Lassiter, our Family and Consumer Science (FCS) Extension Agent, was the host/teacher. Margarete O'Leary, an Extension Master Food Volunteer (EMFV) was on-hand in the kitchen to help prep, she also served as "stand-in" for the camera and off-camera assistant.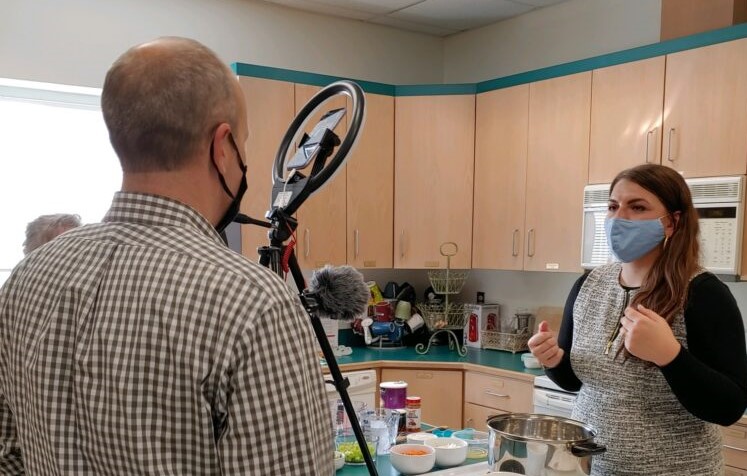 Extension Master Food Volunteers Paul Reinmann, Terry Amrhein, and Jane Kulesza watched from their homes as if they were class participants. They asked questions, made comments and suggestions, and cooked along with Lassiter. Their input on what worked and what didn't work was invaluable. Deb Chappell, the FCS Program Coordinator from New Hanover County, was the moderator, watching the Zoom chat screen and taking notes. Mark Blevins, our County Extension Director, offered technical assistance. I was running between the kitchen and my office taking photos and watching the Zoom live.
The recipe demonstrated was a Salmon Chowder from the Med Instead of Meds curriculum. This recipe is also featured in our FCS monthly newsletter, The Brunswick Buzz. Email Meghan to sign up for the newsletter!
Some additional thoughts from the FCS staff and EMFV about the recipe:
Other fish options could include fresh local fish, canned salmon, or
mackerel, clams, or smoked trout.
Skim or non-fat milk could be substituted for the whole milk, but the soup
will be slightly thinner. If you like thicker chowder, reduce the amount of water or milk added to the recipe.
Any type of rice could be used if you don't have wild or brown rice on-hand.
Warning: cayenne pepper is spicy. If you don't like spicy foods, use a gentle hand when adding or leave it out completely.
The smoked salmon/fish adds a unique umami flavor to the chowder. If you don't like smoked salmon or are leaving the cayenne out, experiment
with other herbs such as paprika, basil, tarragon, oregano, or dill.
Additional vegetables such as corn, green beans, or potatoes could be added.
To see the step-by-step instructions for this recipe go to our  YouTube channel. Be sure to also register for the Med Instead of Meds program that will explore the simple steps to eating a Mediterranean-style diet where you can participate in a virtual cook-along, too.
This article was originally featured in the Brunswick Beacon and written by Cheryle Syracuse for her FCS Column.