Food Safety if the Power Goes Off
Find this article at:
go.ncsu.edu/readext?717048
There are lots of hurricane and disaster preparation lists out there and I hope everyone has one that they heed. I'd like to add a couple of food safety related items to this list that will be helpful if the power goes out. Get yourself a couple freezer and refrigerator thermometers (these are good to have all year round, not just in an emergency). Place a thermometer in both the freezer and refrigerator so you can tell the temperature the inside these appliances.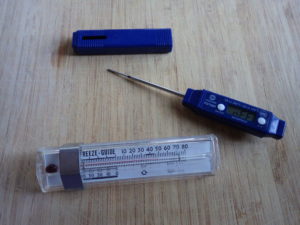 Also get a tip-sensitive digital food thermometer like they use in restaurants. This will allow you to check the actual temperature of the food. The best and most accurate way to determine if food left in the fridge or freezer is safe to eat is to know its temperature. Food kept below 41° is safe.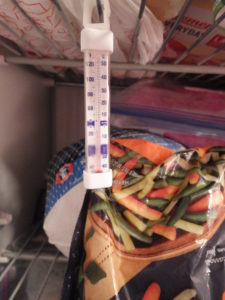 If the power goes out, the "rule of thumb" is to keep the refrigerator and freezer doors closed as much as possible to maintain the cold temperatures. You can take action before a storm by filling any excess space in your refrigerator or freezer with containers of water. This will give you ice or drinking water down the road and will also help keep food in that appliance cold.
In hot summer weather and no air conditioning, you can't rely on the "keep the door" closed method for a long time. If the power goes out, you should check the temperature in the refrigerator after four hours. If it's getting close to being over 41°, you need to make some decisions about that food.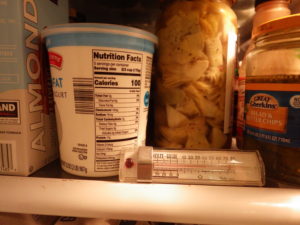 The same rule applies to the freezer. With the door closed, food in most freezers will stay below 41° for two to three days. Thawing rate depends upon the amount of food in the freezer, the kind of food, the temperature of the food (turn the temperature down as low as possible ahead of time), and the size and insulation of the freezer.
After a day or two without power, you're going to need to break the rule of "keeping the door closed" and check the temperature inside the freezer and see if some of the food is defrosting. Also, make sure you know what the temperature was inside the freezer when the power comes back on. This will allow you to correctly determine what is safe to eat or refreeze. You may safely refreeze most foods that still contain ice crystals or have been kept at 41° or below.
Source of online information: NC State Extension Food Safety Disaster Preparedness
Another great source of information is the Safe Plates Food Safety Information Center on FACEBOOK (@safeplatesfsic).
Source:  Cheryle Syracuse, Family and Consumer Science staff member at N.C. Cooperative Extension, Brunswick County Center