Know the Code
Find this article at:
go.ncsu.edu/readext?720173
Jana Hunter our summer student assistant, a junior in Agricultural Education at NC State University, produced  a short video on how to support local farmers. She strongly encouraged buying local. She says if you have a choice, buy products from our county, area and state.
One place she suggested you do this is in the dairy section of the grocery store. You can tell where a dairy product was produced by looking at the codes printed on the cartons and jugs. There is more there than the expiration date. This may take some checking and also using your computer to figure out, they may look like random numbers, but there is a code.
The state code number for dairy products produced in North Carolina is 37. Sometimes this isn't easy to find. The first two numbers of the code range from 0-56 and this represents the state. These codes were assigned alphabetically,  Alabama is 01, South Carolina is 45 and Virginia uses number 51.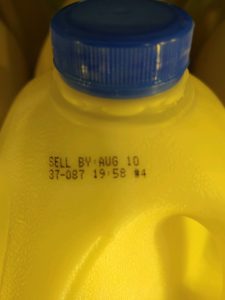 There is also a plant code on many of the packages. This code is usually a three, four number or six number series after the state code. It is sometimes divided by an (-) hyphen. Not all stores give you options, you may only get the store brand, but when you get the choice, Jana suggests you reach for those from North Carolina.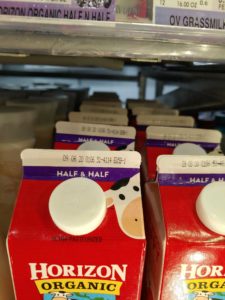 Remembering that 37 is for North Carolina a good place to start. If you want investigate more, check out the website Where is My Milk From? By searching the complete code you can find the specific dairy.
I checked out several milk products at local stores. One coded 51-4114 was produced in Mt. Crawford, Virginia and 37-087 was from High Point, North Carolina.
Jana had a couple more ideas on her video on how you can help a farmer. One obvious one is to buy local produce when you can. Look for farmers markets, roadside stands, and locally grown vegetables in our grocery stores.
One final suggestion from Jana: Thank a farmer for what they're doing. When you see them …say "Thank You."
Source:  Cheryle Syracuse, Family and Consumer Science staff member at N.C. Cooperative Extension, Brunswick County Center