Volunteers Develop Flyers for Food Pantries!
Find this article at:
go.ncsu.edu/readext?715297
We have a wonderful group of Extension Master Food Volunteers (EMFV) that work as a team in Brunswick, New Hanover, and Pender Counties. The EMFV program is similar to the highly recognized Master Gardener℠ volunteers (EMGV). These volunteers support Cooperative Extension's Family and Consumer Sciences (FCS) program with food-related activities.
When local food pantries began getting fresh produce to distribute this spring, two of the EMFV here in Brunswick County recognized a need. Many of the people getting this produce weren't always sure how to prepare or store this food for their families. Terry Amrhein from Sunset Beach and Margarete O'Leary from Supply took on a project to develop a series of produce flyers to help teach these concepts.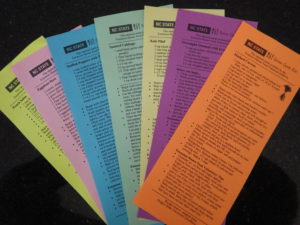 Each flyer contains a recipe, cooking tips from the EMFV, storage, food safety, suggestions on how kids can help and nutrition information. Thanks to funding from the Brunswick Wellness Coalition, flyers have been added to the boxes being distributed at local pantries.
To date, the team has developed 11 different flyers. Featured foods include tomatoes, eggplant, cabbage, and bell peppers.
Here's an example of the recipe and information provided by the Extension Master Food Volunteers on the flyer for kale.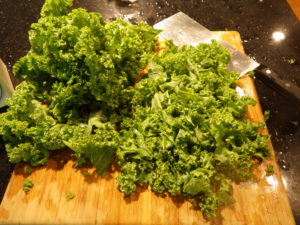 Kale Pilaf
Ingredients
2 teaspoons liquid cooking oil
1 cup long-grain white rice, uncooked
1 medium onion, chopped
2 cups (1 medium bunch) kale, minced
3 large garlic cloves, peeled and minced
¼ teaspoon basil, oregano or marjoram, dried
¼ teaspoon each salt and pepper
2 cups water
1 1/2 Tablespoon lemon juice
Directions
Begin with clean hands and a clean kitchen counter. Heat oil in a large non-stick pot over medium heat. Add rice and onion, Sauté, stirring until rice turns translucent (about 3 minutes). Wash kale under running water to remove sand and dirt. Remove tough ribs. Mince finely and measure out two cups.
Add the kale, garlic, herb(s) of your choice, salt, pepper, and water to the pot. Bring to a boil, stirring. Reduce heat to low. Cover.
Simmer 20-25 minutes or until all the liquid is absorbed and the rice is cooked. Turn the pilaf out into a large bowl and add the lemon juice. Toss gently.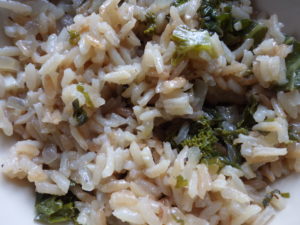 This recipe was adapted from one developed by Cornell Cooperative Extension in Broome County, New York. It makes about six servings with about 130 calories in each serving.
Source:  Cheryle Syracuse,  Family and Consumer Science staff at N.C. Cooperative Extension, Brunswick County Center