Brunswick County Summer Activities
Camp Brunswick is $80 each week and our weeks are themed this year!!
Each week at both sites youth 6-11 will participate in hands-on learning through team-building, STEM activities, cooking, gardening, and healthy living along with two field trips.
June 18 – 22 STEM Week
June 25 – 29 ENVIRONMENTAL Week
July 9 – 13 SUPER HERO Week
July 16 – 20 ARTS Week
July  30 – August 3 ANIMAL Week
August 6 – 10 AROUND THE WORLD Week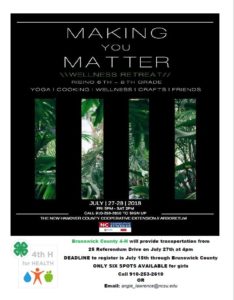 Making YOU Matter Wellness Retreat is $50 July 27 – 28 (WE HAVE SCHOLARSHIPS for youth that participated in after School Communities IN Schools this year) for an overnight at the Arboretum at the New Hanover County Cooperative Extension.
Girls that are RISING 6th – 8th are encouraged to sign up and enroll in 4-H to attend.
CALL or EMAIL Angie Lawrence 910-253-2610
JR TiLT Youth Volunteer (Camp Counselors) 
June 12 from 10:00 a.m.-2:00 p.m. we will hold a training for youth interested in serving as JR Camp Counselors for the summer. This training is for youth that haven't participated in TiLT regularly or at all and for NEW youth rising 7th grade  through 9th grade CALL or EMAIL for more information 
angie_lawrence@ncsu.edu
.