NC State Extension in Guinea: A Volunteer Experience
As I walked out of the Guinea airport on a rainy Sunday afternoon, the smell of diesel fumes, pollution, and salt air was almost as overwhelming as the stark poverty that was already apparent to me in this country. As a first-time international volunteer, I could only hope that I had adequately prepared for my time here. Spoiler alert: nothing can truly prepare you for international work.
I spent two weeks as a volunteer for Winrock International, a nonprofit organization who coordinates volunteers from the US to deliver needs-based learning opportunities in developing countries, with an emphasis on improving the lives of farmers and their families, as well as extension educators.
My assignment was a 5-day training for extension agents on the safe use of pesticides and integrated pest management strategies for mitigating pests of horticultural crops. Initially my assignment was to take place in the Kindia region, but was relocated to Conakry due to a lack of available funds. I was told that, because of the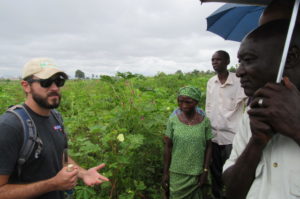 last-minute change, to only expect 10 participants at most. Over 30 people came on the first day. The training was initially located in the Department of Agriculture, but was moved to the Ministry of Agriculture on the day the training was to begin. After setting up in the conference room in our new location, we were told that the room had already been scheduled and we would have to move again; furthermore, the Minister of Agriculture wanted to meet with us before we began. So, first international volunteer experience, 3 location changes, over 30 participants instead of 10, I am now meeting with the Minister of Agriculture for the entire country, and I know zero French—welcome to Guinea, this is your itinerary for the next two weeks.
Though I felt my career as an extension agent had prepared me for a new level of flexibility, nothing could have put that to the test quite like my time in Guinea. Working with a translator for the first time was also a new experience and presented its own set of challenges, forcing me to slow down and to really think about what I was saying so that it could be tra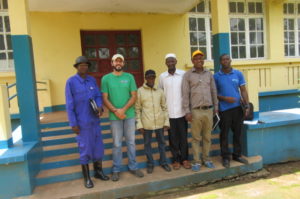 nslated and still have the same impact for the participants. There were a lot of times when I had absolutely no idea what was going on though this was due in large part to the language barrier. That said, my translator, Ousmane, was amazing and extraordinarily patient with both myself and the participants and I am deeply grateful to have met and worked with him. I also have come to better appreciate the basic conditions we often take for granted in the U.S., like being able to rely on electricity, having access to affordable products that keep us safe from pesticides, or having safe, clean food and water.
Personally, I appreciated many things about Guinea, not least of which were the people. Observing day-to-day life in Guinea was at times difficult, at times frustrating, many times full of joy and hope, but it was always humbling. Guinea and its people are not pretentious. Surrounded by crumbling buildings, open sewers, an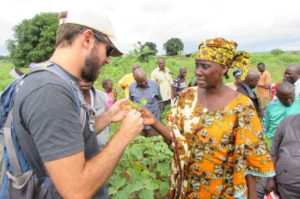 d constant traffic, life continues seemingly untethered and unconcerned about the outside world. That is not to say that there is no concern for the future in Guinea. In fact, it is quite the opposite and to me it is the thing that stands out most, the thing I cannot shake from my mind; it is the extraordinary resilience and determination of the people who live and work in Guinea, who have an enthusiastic approach to overcoming so many challenges that we cannot even begin to process here in the U.S.
I am deeply humbled to have been a firsthand witness to the passion that extension professionals in Guinea have for improving the lives of farmers and their families and I hope one day that I am fortunate enough to return. Maybe then my French will have improved.
If you are interested in reading more about Winrock and the type of work in which it is involved, please visit: https://www.winrock.org/ to learn more.