4th ANNUAL 4-H FAIR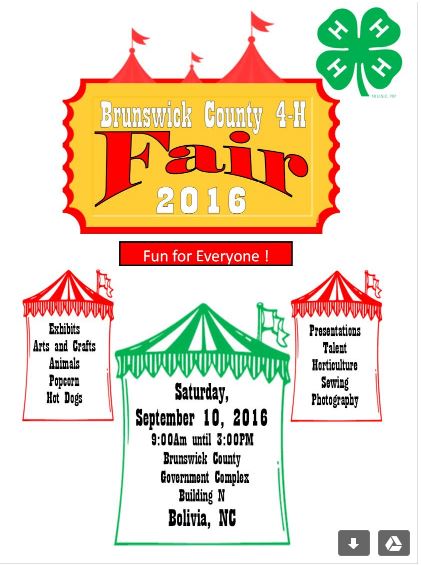 Hello Brunswick County 4-H members!!
It's that time again, FAIR!!
CLICK HERE
 to register.
Registration DEADLINE is AUGUST 25th. 
ALL TiLT and Teen Council members will need to register for the Poster contest.
This year the Fair Board is asking that each family turn it at least one sponsorship form as a registration fee. IF you helped at Tractor Supply you may count that as your sponsorship. (FORM ATTACHED)  The more money collected the better the Fair Premiums!!
ALSO, DON'T FORGET to nominate someone for the Sportsmanship Award!! Sportsmanship Award Nominees must be active 4-H member for the last calendar year. (FORM ATTACHED)
ALSO, Don't forget to advertise!! (ATTACHED) IF you know someone, Girl Scouts, Boy Scouts, church or civic organization that would like a booth, please contact Micah Gore and he will help you get registered.
THIS YEAR Club Displays and Talent Show will be at the Achievement Banquet and we will be bringing judges to Club Meetings for Presentations in 2017!
BE on the look out for "So YOU think you can PRESENT!"  Celebrity panel of judges TBA
Also, the Horticulture division is suspended for this year.