Faithful Families Eating Smart & Moving More – Upcoming Class
Do you wish your fa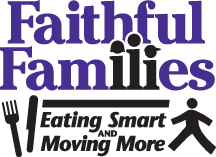 mily ate more home cooked meals together at the dinner table? Come join us for "Faithful Families" – a free nine-week series where you will learn how to cook and eat healthy and enjoy more meals with the whole family.
Eating dinner at home with your family is good for the body and the soul. Studies have shown that eating dinner at home has been linked to higher achievement in school-aged students, less anxiety and depression, lower rates of violence and drug abuse, and increased self-esteem. Kids feel more connected to parents and have an easier time talking with them about issues or challenges they may be facing. When we cook and eat dinner at home we also tend to eat a more balanced meal and consume fewer fried, fatty foods and soft drinks, leading to a lower risk of overweight and obesity.
According to Purdue University, about eighty percent of families value mealtime together but only about thirty-three percent successfully achieve daily family meals. Cooking at home can be simple and inexpensive. This series will help you learn basic techniques related to planning, shopping, saving, cooking, and enjoying dinnertime with your family.
The whole family is invited to attend the classes every Wednesday from 6:30 p.m.-7:30 p.m. starting on January 27, 2016 and ending on March 23, 2016 at Shoreline Baptist Church in Southport. For more information or to pre-register for this free class call 910-253-2610. In addition to the topics covered, participants will receive a free cookbook and a cooking demonstration each week using recipes from the cookbook. Make one of your New Year's Resolutions to bring your family to the dinner table starting this January.